Unicef UK RRSA (2017)
Wiltshire Healthy Schools is working with Unicef UK's Rights Respecting Schools Award to encourage Wiltshire schools to use the UN Convention on the Rights of the Child to improve well-being and help all children realise their potential.
Jilly Hillier (Professional Adviser for the South West, Rights Respecting Schools Award) will be attending a training event in November 2017 to explore the links between the United Nations Convention on the Rights of the Child, the Rights Respecting Schools Award and the Wiltshire Healthy Schools Programme.
Achieving the Level 1 (Silver) Rights Respecting Schools Award shows that a school is on the right track to becoming rights respecting.
Achieving Level 2 (Gold) shows that a school has been successful in embedding a rights respecting ethos across the school in policies and practice. In Wiltshire, the following schools have achieved Level 1:
Corsham Primary School, Primary
Hardenhuish School, Secondary
Manor Fields Primary School, Primary
Semley CEVA Primary School, Primary
St Margaret's Preparatory School, Primary
Other Wiltshire schools are currently working towards this level.
A full up to date list of all achieving schools can be found here.
The Unicef UK Rights Respecting School Award (RRSA) seeks to put the UN Convention on the Rights of the Child at the heart of a school's ethos and culture to improve well-being and develop every child's talents and abilities to their full potential.
A Rights Respecting School is a community where children's rights are learned, taught, practised, respected, protected and promoted.
The award is based on principles of equality, dignity, respect, non-discrimination and participation.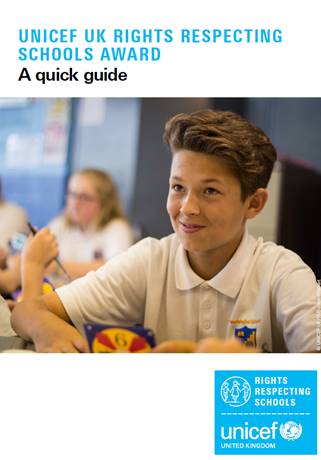 Further information
Jilly Hillier
Rights Respecting Schools Award
Professional Adviser for the SW
UNICEF UK
07843387424