HCRG Care Group - Mental Health Support (from 2023)
Who are we?
HCRG Care Group has been commissioned by Wiltshire Council to improve outcomes for children and young people with emotional wellbeing and/or emerging low level mental health needs.
The service provides a range of therapeutic interventions, information, advice, support and positive activities
Who do we support?
Children and young people aged 5-18 who may be experiencing
low mood
panic, stress, worry and low level anxiety
have problems sleeping
have anger difficulties
have low self-esteem
relationship difficulties with family or friends
relationship problems at school or in the community (including bullying),
Feeling overwhelmed by pressure eg in relation to school work.
What do we offer?
The service delivers three separate elements:
Advice and Information - including signposting, management and promotion of the on your mind website as well as onward referrals to other services
Therapeutic Positive Activities - examples of which include visits in the community, making homemade insect hotels, baking groups etc.
Therapy and Counselling - individual and group therapeutic interventions with trained and accredited counsellors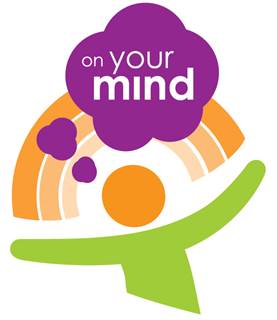 On Your Mind website – www.onyourmind.org.uk
Information for young people and for parents / carers including links to resources and organisations that can support with emotional wellbeing.
We are working closely with other specialist providers in Wiltshire, including CAMHS services who will be working with young people with more complex needs e.g. psychosis, PTSD, bipolar, personality disorders, eating disorders, chronic anxiety or depression, enduring self-harm and OCD.
The service is underpinned by our commitment to being child-centred working in partnership with children and young people and adopting a systems approach that recognises that children and young people do not live in isolation from their families and communities.
To request support from the service please visit www.onyourmind.org.uk.
For more information please contact the service
Tel: 0300 247 0090 (option 4)