NSPCC Schools Service (from 2013)
The NSPCC Schools Service (formerly ChildLine Schools Service) has a range of services schools and parents, many of which are available online. Download this document for further details (new version 2020).
Speak Out Stay Safe Programme
With the amazing support of Ant and Dec, the NSPCC has launched an online version of their safeguarding programme– 'Speak out. Stay safe'.
'Speak out. Stay safe.' online is an effective way to support your school's safeguarding duties, links directly to the curriculum and is offered at no cost to all UK and Channel Island Primary schools.
The programme includes access to age-appropriate video assemblies for KS1 and 2 as well as fun and engaging supporting resources to help reinforce the messages in the classroom.
Schools are supported to deliver the online programme by their local School's co-ordinator.
The programme supports schools in teaching children to:
Recognise abuse in all its forms, including bullying and online abuse
Know how to keep themselves safe by Speaking Out
Understand that abuse is never OK and is never a child's fault
Identify 'trusted adults' they can speak to if they are worried about anything
Here is information about the virtual version of the programme.
For further information and to sign up to receive the programme visit:
The NSPCC began working with Wiltshire Schools in 2013. Since then, they have reached over 95% of Wiltshire Primary schools with their Speak Out. Stay Safe messages.
This input can support the ongoing work in Wiltshire schools to address child protection and bullying as part of Healthy Schools and PSHE Education. The programme is in line with the PSHE Association Scheme of work and the current Ofsted criteria.
If you are interested in further details about any of the services above, contact your local Schools Co-ordinator Sarah.Smith@NSPCC.org.uk or schools@nspcc.org.uk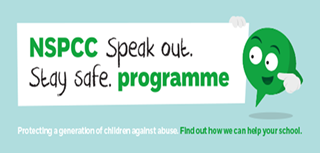 'Speak Out. Stay Safe' SEND Programme
The 'Speak Out. Stay Safe' SEND Programme consists of 6 sessions. The programme has been specifically designed to be easily adapted by schools to meet the needs of pupils with a range of special educational needs and disabilities in both mainstream and special schools and is primarily aimed at UKS2/KS3 pupils. Schools receive an inflatable 'Buddy' mascot, a sticker pack, full lesson plans, films, slideshows and printable supporting materials.
For further information about the Speak Out Stay Safe SEND and to sign up to receive the programme visit:
Schools SEND form | NSPCC Learning
Information about other SEND resources the NSPCC have available can be accessed here or by contacting your local NSPCC School Co-ordinator using the details at the bottom of this page:
Children with special educational needs and disabilities (SEND) | NSPCC Learning