Supporting young carers
Information and advice for young carers and young adult carers, in relation to Covid-19, is now on the Carer Support Wiltshire website:
The council's young carers team will be in touch with your school to let you know which of your pupils are known to them to be young carers.
Schools can continue to refer young carers for assessment via DART. Assessments will be by telephone.
Schools who are concerned about a young carer can contact MASH on 0300 456 0108
More advice from Carer Support Wiltshire about Young Carers can be read here
For Young Carers Awareness Day 2020 Carer Support Wiltshire have put together a digital pack for Wiltshire Schools, Sixth Forms and Colleges.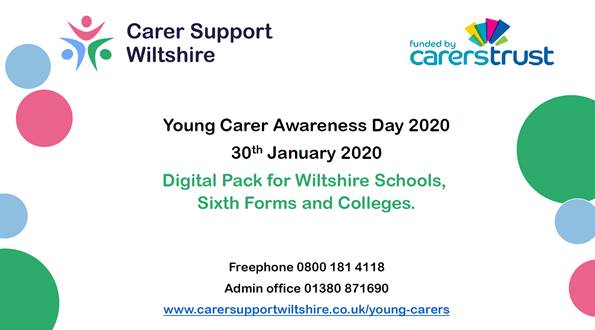 A young carer is a child or young person who cares for another person. This may be someone in their family who needs looking after because they have a disability or an illness. It could be a brother or sister or a parent or grandparent. A young carer should not have to do so much caring that it makes them upset, unwell or miss school.
The 2011 census reported that there were over 200,000 young carers in the UK but research by the BBC in 2010 estimated that there could be up to 700,000 young carers in the UK.
Young carers can be found in families where there are :
physical disabilities or long term illness;
mental health problems;
family members who misuse alcohol or drugs;
multiple problems.
The average age for a young carer is 12 years old. They can care for family members in a number of ways, including: cooking, shopping, personal care, washing clothes, arranging medical appointments and carrying out housework.
Research shows that a young carer's responsibilities can negatively impact upon their health, wellbeing and school achievement (9 grades lower than their peers at GCSE). They are more likely to be not in education, employment or training (NEET) from 16-19. Many young carers experience the following:
tiredness
social isolation
bullying (25% bullied due to their caring role)
physical problems
difficulty concentrating
poor attendance (around 1 in 20 miss school)
Young carers can also demonstrate great resilience, sense of responsibility and independence.
Most schools will have children and young people on roll who have caring responsibilities for a parent, other relative or sibling. Some of these will be known to the school, but very often young carers can remain hidden and can be difficult to identify.
Schools have a duty to consider the health and wellbeing of all pupils and they can do this in a number of ways. Training for all staff, in the identification of young carers and the approaches that can be put in place to support them can make a positive impact on young carers and their attainment and achievement.
The current Wiltshire Healthy Schools criteria ask schools to provide evidence of how they are meeting the needs of young carers, including having in place a young carers policy.
Support and guidance for Wiltshire schools
From April 1st 2018 Carer Support Wiltshire has been commissioned to offer support and guidance to schools, communities and health settings. Schools can continue to use a DART (or SARF if you do not have access to DART) to refer a young person whom you believe to be a young carer.
Sharon Twiggs (Health and Engagement worker- Young Carers) is employed to raise awareness of Young Carers, help schools to identify and refer Young Carers and offer information about ways to support Young Carers.
Please contact her for support, including meeting Wiltshire Healthy Schools targets for young carers - this may include help raising awareness of young carers among staff, hearing about good practice in other schools and receiving materials for display. Email: sharon@carersupportwiltshire.co.uk 01380 819598.
Other queries about support for young carers in Wiltshire should be directed to the Wiltshire Council Young Carers Team: YoungCarersTeam@wiltshire.gov.uk
Information and resources to support young carers in school can be found here: https://youngcarersinschools.com/
Advice, Information and support for Young Adult Carers aged 16-25: www.YACbook.co.uk
Leaflet about young carers in school
The Children's Society and Carers Trust have a Young Carers in School Award that supports and recognises schools who support their young carers.
Longleaze Primary School achieved this national award during 2016.
The Carers Trust provide a step-by-step guide for supporting young carers in school.
As part of this step by step guide there are various national documents with suggested content for a Young Carers policy including this one.
This e-learning module for schools created by The Children's Society, can raise staff awareness of the issues young carers face and help schools to develop strategies to support them.
Resources from Carer Support Wiltshire
Social Media images