Teaching mental wellbeing - training module from the DfE
Tuesday 9th June 2020
The DFE has published practical materials for primary and secondary schools to use to train staff about teaching mental wellbeing.
The DfE has developed this mental wellbeing teacher training module to help subject leads and teachers understand what they should teach, as well as improving their confidence in delivering mental wellbeing as part of the new curriculum.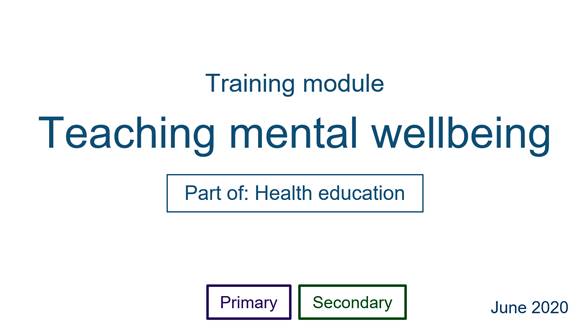 The new curriculum becomes statutory in September 2020, although there is flexibility over the timescale for implementation, but the content in this module may be useful for teachers who are currently working with pupils, either face-to-face or remotely, to support them to maintain good mental health and address issues before they escalate. This may well be particularly useful as pupils begin to return to school over the coming weeks and months.
More about emotional wellbeing and mental health
New wellbeing and Covid-19 support materials