The Healthy Me Herald
Friday 8th September 2017
The Healthy Me Herald is a new monthly newsletter and fun way to keep informed about what is happening across our four Healthy Me locations in Wiltshire.
We encourage you to celebrate your successes and to keep informed of all upcoming events.
Any stories of new activities you have tried, or foods tasted, or anything you want us to share please email in along with a picture if possible to healthyme@wiltshire.gov.uk. Your story could feature next month.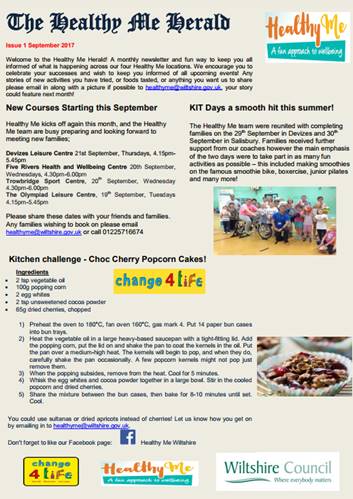 Read the first newsletter here.
New Courses Starting this September
Devizes Leisure Centre 21st September, Thursdays, 4.15pm- 5.45pm
Five Rivers Health and Wellbeing Centre 20th September, Wednesdays, 4.30pm-6.00pm
Trowbridge Sport Centre, 20th September, Wednesday 4.30pm-6.00pm
The Olympiad Leisure Centre, 19th September, Tuesdays 4.15pm-5.45pm
Please share these dates with your friends and families.
Any families wishing to book on please email healthyme@wiltshire.gov.uk or call 01225716674
More information about Healthy Me can be found here.