New primary 10 Minute Shake Up activities launched by Disney and Change4Life
Thursday 4th July 2019
Teachers can make a difference to pupils' wellbeing by implementing fun physical activity across the school day
Find out more about the Change4Life and Disney resources on the School Zone of the Public Health England website.
10 Minute Shake Up games take-home packs were distributed to over 16,500 state-funded primary schools during the summer term via the School Fruit and Veg Scheme for children to take home. The packs contain Disney themed challenges that aim to inspire children to continue their Shake Up activities and keep active over the summer. More packs are available to order from the Change4Life School Zone.
This year marks the sixth year that PHE and Disney UK have worked together to inspire children to move more, with almost two million children taking part in last year's campaign.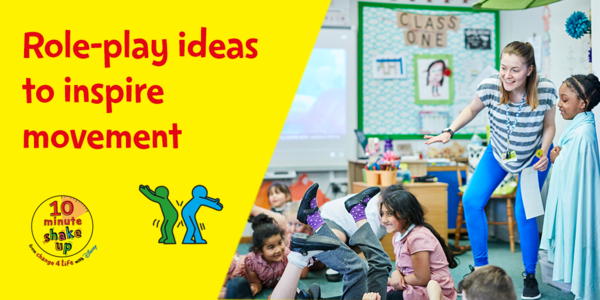 Evidence from a recent Public Health England report, suggests that there is a strong association between being physically active and academic performance, learning and attention, within a school setting – the building blocks for a successful future.[1]
A recent Change4Life and Disney UK survey revealed that children believe they need to be 'fast' (49%) or 'strong' (41%) to be physically active and only a quarter (25%) see themselves as 'sporty'.[2] The Change4Life and Disney inspired 10 Minute Shake Up campaign plays a part in challenging this notion - by encouraging the nation's children to get more active this summer by showing pupils that everyone – of all abilities - can enjoy and benefit from physical activity and improved overall wellbeing.
Schools have always worked hard to foster positive attitudes towards physical activity, but there is a need to engage pupils beyond PE classes, and get them moving throughout the school day. By introducing fun forms of physical activity that excite and engage pupils, teachers can make a real difference to getting young people active before, during and after school.
Ellie Wall, Year 6 Teacher, St John's Primary School, London said:
"I would definitely recommend the 10 Minute Shake Up resources to teachers who are looking to get a bit more activity into their classroom. By building a sense of fun and enjoyment around Disney characters they love, it allows children who aren't so sporty to engage with activities they wouldn't usually engage in. It gives them an entry point."
Darren Rubin, Executive Head, St John's Primary School, London said:
"We've had real success using the Change4Life and Disney 10 Minute Shake Up activities. Each Shake Up is modelled on an activity inspired by a popular Disney character, which has proved to be the perfect incentive to get those children, especially those who don't show much interest in sport, excited and involved with physical activity."
Malcolm Aklay, Health Mentor, St John's primary school, London said:
"Every child wants to be like a Disney character. Through these resources they get the best of both worlds; they get something they enjoy watching and get to do a bit of exercise at the same time. The whole school 'active assembly' is a really great idea for the children. Their hearts start to beat and their minds start to open up. It sets them up for the school day and gets them ready to learn."
Eustace de Sousa, National Lead for Children, Young People and Families, Public Health England says:
"Encouraging children to get active for 30 minutes every day in school will help them reach their recommended level of physical activity, as well as reduce sedentary behaviours and increase physical activity outside of timetabled PE lessons.
By making physical activity enjoyable for children they will feel more positive towards getting active and confident to try new activities or sports."
The Chief Medical Officer recommends that children do at least 60 minutes of moderate to vigorous physical activity every day, yet just 20% of boys and even fewer girls (just 14%)3, are meeting this target, despite 95% of children reporting that they enjoy being physically active.
Research also shows that 84% of parents are unaware that physical activity can develop children's ability to cope with life's setbacks and more than half (51%) did not know it can help build self-confidence. Schools can play an integral role in engaging families and help parents and carers to see that the benefits of exercise go beyond the physical benefits and also help to build resilience.
To help schools and children achieve the recommended target activity levels, the Change4Life campaign has partnered with Disney and worked with teachers to develop new resources for 2019. The new fun, free and curriculum linked activities are made up of 10-minute bursts of active fun that pupils can easily fit into the school day.
The activities are inspired by popular characters from Disney and Pixar's Toy Story 4 and Incredibles 2 and Disney's Frozen and The Lion King. The resources encourage pupils to pounce like Simba, stretch like Elastagirl and travel to infinity and beyond like Buzz.These packs also give families and carers the chance to get involved and join their children in moving like their favourite Disney characters at home.
Nearly two thirds (64%) of children surveyed said they would be inspired to be more physically active if they saw their favourite characters being active. Aimed at pupils aged 4 to 11, the 10 Minute Shake Up programme has flexible activities including a whole school 'Active assembly', 'Active school day ideas' for use before, during and after the school day, and 'Active role play lesson starters' to help teachers get their pupils moving, energised and ready for learning at the start of class.
To ensure this programme goes beyond the school gates and helps pupils keep fit over the summer, the 10 Minute Shake Up games take-home packs have been distributed to over 16,500 state-funded primary schools before the end of term to inspire children and their families to get active together over the holidays.
By getting young people, schools, families and carers involved, these flexible Shake Up activities ensure that young people can build long-term active habits. Four in five parents (82%) think that kids are likely to enjoy sports and physical activities if they're fun and 61% of children agree that this helps.
[1] Public Health England, the Youth Sport Trust and AoC Sport and supported by the Department of Health and Social Care; the Department for Transport; the Department for Culture, Media & Sport; the Department for Education and Sport England. (2019). "What works in schools and colleges to increase physical activity?" report.
[2] The Opinium survey for Public Health England questioned 1,017 parents and 535 children aged 5-11 in England about their attitudes towards physical activity and took place in June 2019. https://www.opinium.co.uk/wp-content/uploads/2019/07/OP12189-Freuds-Change4Life-Disney-Tables-v2.0-ABRIDGED.xlsx
More about promoting healthy weight here