Dance Fitness for schools at Salisbury Cathedral
Wednesday 5th December 2018
DDMIX - Dance Fitness by Dame Darcey Bussell DBE, supported by local councils, are calling schools in their area to register to take part in this exciting health & fitness dance competition.
Schools who register will be sent a film of Dame Darcey and her team performing one of four different DDMIX dance fitness routines.
Your group is asked to rehearse and film themselves performing their routine for submission to Dame Darcey for judging.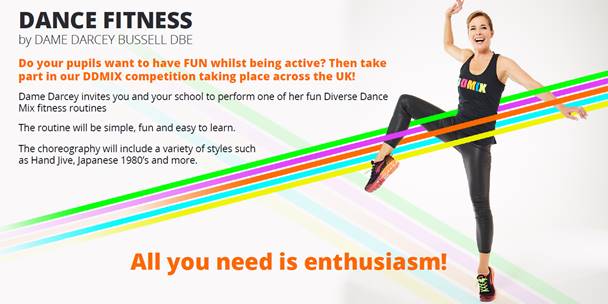 Shortlisted schools will be invited to take part in a celebration show at Salisbury Cathedral in June 2019.
The overall winners will receive a trophy and perform their routine to close the show.
All participating finalists will receive a certificate signed by Darcey and a group photograph.
To register your school's interest please visit https://schoolsgetdancing.co.uk/
Registration closes 30 January 2019
Further information can be found in this flyer or on the 'schoolsgetdancing' website: https://schoolsgetdancing.co.uk/