Campaigns and current events
Big Pledge 2017 (5 June-30 July)
Following 2016 successful Road to Rio challenge, Wiltshire's Big Pledge has returned this year with its London Calling challenge. This year it is celebrating the first time the IAAF World Athletic Championships have been held in the UK, when they take place in London this summer. Participants will complete a set distance to collecting the flags of the countries who will be taking part in the championships. There will be 30 countries in total to collect and it is free to enter.
We are encouraging as many school's to sign up now and join in the fun from the 5 June until the 30 July by signing up to one of the team challenges. The challenge is a great what for your pupils and school to get active and potential use it in other areas of learning such as maths, geography or art as well as improving overall well-being.
Last year some of the schools that took part reported a number of benefits saying:
"The pupils have been learning about the Olympics. They have studied the history of the Olympics, the underpinning values & principles and about the different range of competitive sports. They pledged to walk at least 1 km 3 times a week prior to lessons and to undertake additional walks during playtime and lunchtimes. They have enjoyed the time together walking and talking to each other and on some mornings listening and dancing to music as they walk! This time has helped children develop their social and emotional wellbeing as they are learning to socialise in a different way than they would at lunchtime or playtime." The Manor School, Melksham
"We had regular assemblies to guess where we were in the world and pupils were able to have a guess and talk about the country where we currently were after each week, it also gave them incentive to keep going and reach the goal. The children are a lot more active with many now walking to school." Shrewton Primary School, Shrewton
"It was a good chance to get the whole school active and fitted perfectly with the Olympic values. Pupils took part of their normal school day plus pedometers doing a variety of activities including Fencing, Swimming, Running, Sport Day, PE lessons, Tennis, Netball." Pewsey Primary School, Pewsey
"We all took part in the Daily Mile- where all children and staff walked briskly/ ran a mile around the school grounds. We held a sports week and the children were able to take part in various activities." Churchfields Primary School, Melksham
Every school that signs up will receive an online toolkit containing useful information on how to use the online distance record tool, information on how to include a range of activities to contribute to the schools overall total, and A1 wall chart to put up in your reception area or hall to record your schools progress and information on the countries you will be collecting. The first 50 schools that sign up will receive a free kit bag containing some sports equipment.
It is easy to sign your school up. You can download this guide that explains how to sign up your school.
If you have any questions please contact bigpledge@wiltshire.gov.uk
ABA Film competition
Could your school make the official Anti-Bullying Week 2017 film? We know what incredible film makers our students and teachers are. We need your help to make the official film for Anti-Bullying Week 2017. Last year's films had over 33,000 views on YouTube and in 2015 we had over 60,000 views. They are also used throughout our lessons plans and assemblies for the week. We are partnering with SafeToNet's new app SafeToTalk. Find out more below.
This competition is open to primary and secondary schools in England, the deadline for entries is the 31st July 2017
To enter the competition we invite pupils to create and send us a film where they share how important it is that we celebrate what makes us 'All Equal, All Different' to help prevent bullying and create the best world possible. This could be in the form of a story, animation, song, poem, rap, musical piece - the more creative, the better. The video clip should be no more than 2 minutes long – and doesn't have to be filmed professionally – it can even be filmed on a phone. This competition is sponsored by our official Anti-Bullying Week supporter SafeToNet.
Two winners will be selected, one for primary school entries and one for secondary schools.
Further details can be found here.
Nominate teachers for a Power For Good Award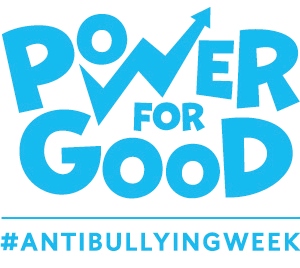 This Anti-Bullying Week we are continuing our very successful Power for Good award for teachers and school staff. Children and young people can nominate teachers and school staff in England that go above and beyond the call of duty to provide pastoral care to students for issues such as bullying, relationships, family life, mental health and wellbeing.
All nominated teachers and school staff will receive a Power for Good certificate. A panel of children and young people from Young NCB will choose one nomination from Primary and one nomination from Secondary to win our award.
Further details and an application form can be found here,
The winners will be announced in Anti-Bullying Week 2017 and the deadline is 5pm on Friday 29th September 2017.
Time to Change: mental health animation competition
Closing date: 14th July 2017
Time to Change and the Life Channel are giving students the chance to create a short animation and campaign plan about being there for friends. The winning entry will be developed with professional animators and your students will be supported to promote it through school, Time to Change's social media platforms and the Life Channel network.
The competition is designed to get secondary school students thinking about the topic of mental health in a fun and creative way. Students will develop skills in digital storytelling, design, campaign planning, media, team work and engagement.
We've created a simple brief, campaign plan and storyboard template for you to share with your students. In addition, you can find resources in our What You Should Know section: https://www.time-to-change.org.uk/what-you-should-know/be-there-your-mate
Further details and sign up to the competition here
Disrespect Nobody
The second phase of the Home Office Disrespect Nobody campaign ran from 2 February until the end of March 2017. The aim of the Disrespect NoBody campaign is to prevent young people, both boys and girls aged 12 to 18 years old from becoming perpetrators and victims of abusive relationships.
For 2017 the focus of the campaign is consent and sexting, which are both issues where many young people need more education and information. The campaign advertising directs young people to the website www.disrespectnobody.co.uk where they can get further information and signposts them to organisations who can provide support.
Please click here to download the partner brief and campaign materials.
Be Real - the Campaign for Body Confidence
The Be Real Campaign has launched its Body Confidence Campaign Toolkit for Schools, featuring teaching ideas, best practice guidance and campaign tools designed to support teachers of 11-16s when creating a whole-school approach to body confidence. The Toolkit is available for free download here.
Schools can also be awarded with the Be Real Campaign school badge for their support and commitment in promoting body confidence. To be awarded with a Be Real Campaign school badge, schools can share their story once they've downloaded the Toolkit here: http://www.berealcampaign.co.uk/schools
e-Bug newsletter Jan 2017
The National Institute for Health and Care Excellence (NICE) has endorsed Public Health England's e-Bug resource and recommends that schools use e-Bug to teach children about hygiene, infections and antibiotics.
The latest e-Bug school newsletter can be found here.
Reading Well in Wiltshire libraries
Reading Well for Young People (RWYP) is a public library scheme to help 13-18 year olds manage their mental health, wellbeing and resilience using recommended reading. Since July 2016 this national campaign is being promoted in Wiltshire libraries. Further details and related resources can be found here.
Antibiotic Badge Competition 2016
World Antibiotic Awareness Week (WAAW), 14-20 November 2016, aimed to increase the awareness of global antibiotic resistance and how we can all help preserve this valuable resource by following certain behaviours.
to support the campaign a badge design competition was launched for primary schools. Eleven schools participated either as a team or from individual pupils. Helen Drown from the School Effectiveness Team, Wiltshire Council and the Coordinator for Town Hall Arts, Jo Beal, were enlisted for the difficult task of judging the entries. We extend our thanks for their valuable contribution and time in helping us.
Best entries won "Glow and Show" kits for their individual schools and the presentations of both the kit and certificates were met with enthusiasm.
Trampoline Safety Competition winners (2016)
On Friday 1st July 2016 the judging panel met to look at the fantastic entries for the trampoline safety competition. It was wonderful to see so many schools enter this year.
The 2016 winners were:
Lea & Garsdon C of E Primary School
Sutton Veny Primary School
Five Lanes Primary School.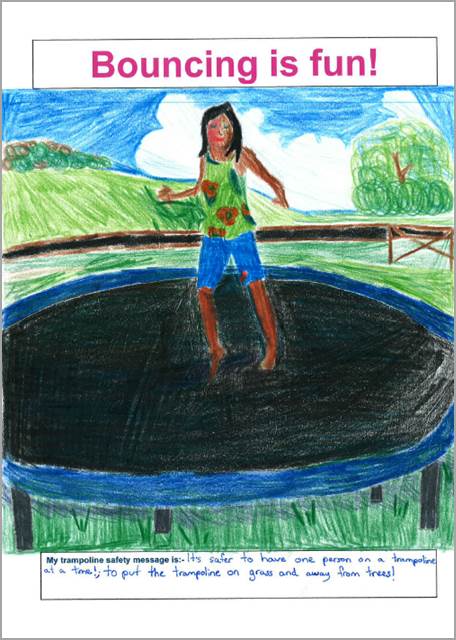 The winning schools received £100, and the student winners each received a £20 shopping voucher. These were presented at a school assembly before the end of term.
This year we introduced a category 'judges favourite'. Students from the following schools were among the judges favourites:
Coombe Bissett C of E Primary
The New Forest Primary
St John's Primary.
They all received certificates.
Well done and a big thank you, to all the schools who entered this year. We hope there will be less trampoline injuries over the summer holidays!'
All the winning posters can be seen here
Wiltshire water Safety Heroes
These are the 4 winners from our 2015 Water Safety Hero poster competition:
Wiltshire water safety leaflet for babies and young children