Campaigns and current events
Links to campaigns throughout the year can be found here
Gas Safety Week (17-23 September 2018)
The eighth annual Gas Safety Week will see organisations from across the UK working together to raise awareness of the dangers of poorly maintained gas appliances, which can cause gas leaks, fires, explosions and carbon monoxide (CO) poisoning.
The theme for Gas Safety Week 2018 is Family Matters.
Maze, dot to dot, word search and spot the difference puzzles for children can be downloaded here
More information about the campaign can be found here, where you can sign up to get involved and receive a free toolkit.
You can remind your colleagues, families and parents to get their gas appliances checked every year by a qualified Gas Safe registered engineer, with the range of tools available from the campaign.
To support the national and Wiltshire Council campaign on social media, schools can help raise awareness in newsletters home to parents, using the above image which can also be downloaded full size here and the information below:
It's here! Gas Safety Week 2018 has arrived. Check out Doug's top tips:
Get your parents to have their gas appliances checked annually
Check the engineer is Gas Safe registered
Check the engineer is qualified for the type of gas work they need doing
For more tips visit GasSafetyWeek.co.uk
Wiltshire Council is supporting Gas Safety Week, are you? Pledge your support and be part of the campaign to help keep the nation safe.
Disrespect Nobody
The second phase of the Home Office Disrespect Nobody campaign ran from 2 February until the end of March 2017. The aim of the Disrespect NoBody campaign is to prevent young people, both boys and girls aged 12 to 18 years old from becoming perpetrators and victims of abusive relationships.
The focus of the campaign was consent and sexting, which are both issues where many young people need more education and information. The campaign advertising directs young people to the website www.disrespectnobody.co.uk where they can get further information and signposts them to organisations who can provide support.
Please click here to download the partner brief and campaign materials.
Be Real - the Campaign for Body Confidence
The Be Real Campaign has launched its Body Confidence Campaign Toolkit for Schools, featuring teaching ideas, best practice guidance and campaign tools designed to support teachers of 11-16s when creating a whole-school approach to body confidence. The Toolkit is available for free download here.
Schools can also be awarded with the Be Real Campaign school badge for their support and commitment in promoting body confidence. To be awarded with a Be Real Campaign school badge, schools can share their story once they've downloaded the Toolkit here: http://www.berealcampaign.co.uk/schools
Reading Well in Wiltshire libraries
Reading Well for Young People (RWYP) is a public library scheme to help 13-18 year olds manage their mental health, wellbeing and resilience using recommended reading. Since July 2016 this national campaign is being promoted in Wiltshire libraries. Further details and related resources can be found here.
Antibiotic Badge Competition 2016
World Antibiotic Awareness Week (WAAW), 14-20 November 2016, aimed to increase the awareness of global antibiotic resistance and how we can all help preserve this valuable resource by following certain behaviours.
to support the campaign a badge design competition was launched for primary schools. Eleven schools participated either as a team or from individual pupils. Helen Drown from the School Effectiveness Team, Wiltshire Council and the Coordinator for Town Hall Arts, Jo Beal, were enlisted for the difficult task of judging the entries. We extend our thanks for their valuable contribution and time in helping us.
Best entries won "Glow and Show" kits for their individual schools and the presentations of both the kit and certificates were met with enthusiasm.
Trampoline Safety Competition winners (2016)
On Friday 1st July 2016 the judging panel met to look at the fantastic entries for the trampoline safety competition. It was wonderful to see so many schools enter this year.
The 2016 winners were:
Lea & Garsdon C of E Primary School
Sutton Veny Primary School
Five Lanes Primary School.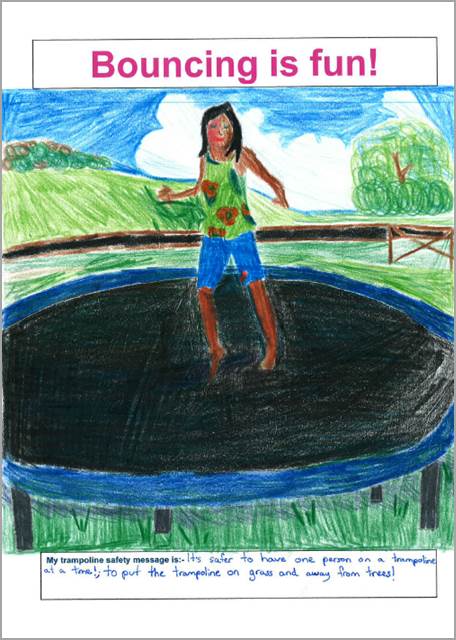 The winning schools received £100, and the student winners each received a £20 shopping voucher. These were presented at a school assembly before the end of term.
This year we introduced a category 'judges favourite'. Students from the following schools were among the judges favourites:
Coombe Bissett C of E Primary
The New Forest Primary
St John's Primary.
They all received certificates.
Well done and a big thank you, to all the schools who entered this year. We hope there will be less trampoline injuries over the summer holidays!'
All the winning posters can be seen here
Wiltshire water Safety Heroes
These are the 4 winners from our 2015 Water Safety Hero poster competition:
Wiltshire water safety leaflet for babies and young children