Healthy Pupil Capital Fund 2018
£100m of revenue generated from the Soft Drinks Industry Levy will be provided in 2018-19 for the HPCF.
This fund is intended to improve children's and young people's physical and mental health by improving and increasing availability to facilities for physical activity, healthy eating, mental health and wellbeing and medical conditions.
Wiltshire schools will be receiving an allocation of this funding.
Guidance is available for responsible bodies who will receive a direct allocation of HPCF.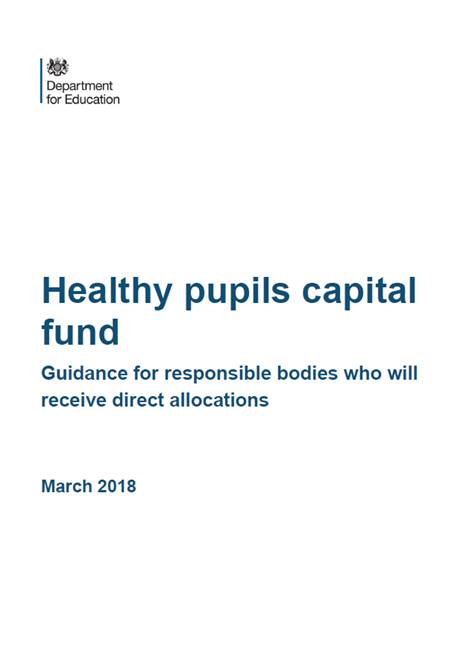 Local authorities are responsible and receive funding for community, foundation and voluntary controlled schools.
Voluntary aided schools are notionally assigned to their local authority.
The local authority will coordinate the administration of their group funding allocation through the Locally Coordinated Voluntary Aided Programme (LCVAP).
Multi-academy trusts with five or more academies and at least 3,000 pupils receive a funding allocation for their academies. Where an academy chain has opted-in to receive a School Condition Allocation, they will also receive a direct allocation for HPCF.
Independent institutions (non-maintained special schools and specialist post-16 providers) will receive a direct allocation in respect of their state-funded pupils.
Some suggestions for Wiltshire schools
Wiltshire schools could use this funding to:
Improve the school meal experience
Refurbishment of dining spaces, to include seating and tables
What works well - The School Food Plan - making lunchtimes a positive social experience
Develop growing activities
Creation or renovation of garden spaces for growing produce
Advice from The RHS campaign for School Gardening
Support the provision of breakfast clubs
Breakfast consumption appears to reduce with school phase. 87% of Wiltshire primary school respondents had breakfast most days or quite often. This fell to 64% of the Wiltshire secondary school sample (2017).
In the 2017 Wiltshire Children and Young People's Health and Wellbeing Survey the top 3 areas of school support requested by primary school pupils were:
Cooking skills (34%)
Getting Fit (27%)
Healthy Eating (21%)
This funding can support a school's Healthy Schools work, related to the Healthy Weight theme.
The majority of survey respondents do not eat the recommended 5 portions of fruits and vegetables a day. A large proportion of respondents from primary school and secondary school reported eating snacks once a day (40% and 41%).
Schools can engage with the SUGAR SMART Wiltshire campaign to promote healthier eating.